wat is wolfraam koperlegering?
T ungsten Copper Alloy (Koper Tungsten, CUW, of WCU) is een pseudo-legering van koper en wolfraam.Zoals koper en wolfraam niet onderling oplosbaar wordt het materiaal uit afzonderlijke deeltjes van een metaal gedispergeerd in een matrix van de andere. De microstructuur is daardoor relatief een metaalmatrixsamenstelling dan een echte legering. Koper wolfraam legering product is een gesinterd koper tungsten materiaal, en altijd geproduceerd door poedermetallurgie. Het vormt dichte composiet met hardheid, slijtvastheid en een hoge verwekingstemperatuur van wolfraam gecombineerd met een goede electrische geleidbaarheid van koper
Wolfraam koperlegering bevat gewoonlijk 10 tot 50 gew. % Koper, het resterende deel in hoofdzaak alle wolfraam. De karakteristieke eigenschappen van de legering af van zijn samenstelling. Wolfraam koperlegering met minder gew.% Koper heeft een hogere dichtheid, hogere hardheid en hogere weerstand. De typische dichtheid van CuW90 legering met 10% van het koper, is 16.75g/cm3 en 11.85g/cm3 voor CuW50 legering.CuW90 een hogere hardheid en weerstand van 260 HB kgf/mm2 en 6,5 μΩ.cm dan CuW50.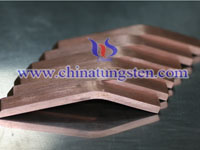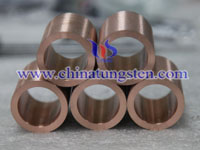 Tugsnten koperlegering eigenschappen wolfraam koperlegering combineert de eigenschappen van beide metalen, waardoor een materiaal dat hittebestendig, ablatie-bestendig, zeer thermisch en elektrisch geleidend en gemakkelijk te bewerken. Delen zijn vervaardigd van WCU legering door de wolfraamdeeltjes in een gewenste vorm, sinteren het gecomprimeerde deel, dan infiltreert met gesmolten koper. Platen, staven en bars van de legering zijn ook beschikbaar.

Als u interesse in onze wolfraam koperlegering, neem dan gerust contact met ons op via e-mail:sales@chinatungsten.com sales@xiamentungsten.com of per telefoon: 86 592 5129 696, wij zijn u graag van dienst de hele tijd.
Note: Thanks Google Tool for translating this page. If you need more details clearly, please visit English version Tungsten Alloy.
meer info>>
Wat is Tungsten Alloy| Zware Tungsten Alloy Grades| Zware Tungsten Alloy Application|
Tungsten Koper Application| Tungsten Koper Manufacturing| Tungsten Koper Classificatie|
Tungsten koperen staaf| Tungsten Copper Tube| Tungsten Koper Brick|