Tungsten-Koper hoogwaardige composieten zijn vervaardigd uit zorgvuldig gecontroleerde poreuze wolfraam, dat is vacuüm geïnfiltreerd met gesmolten koper. Dit resulteert in een W / Cu composiet dat hoge geleidbaarheid en een passende lage thermische uitzetting van koellichamen heeft.
Het is een samenstelling van wolfraam en koper . Door regeling van de inhoud van wolfraam, kunnen we ontwerpen zijn uitzettingscoëfficiënt (CTE) overeenkomt met dat van de materialen, zoals keramische materialen (Al2O3, BeO), Semiconductors (Si), Kovar, etc.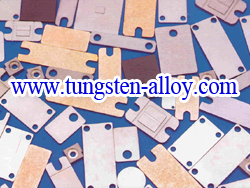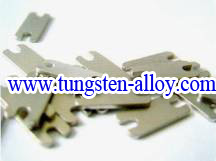 Voordelen:  hoge thermische geleidbaarheid, Excellent hermeticity, Excellent grootte controle, oppervlakte-afwerking en vlakheid, Half afgewerkte of afgewerkt (Ni / Au plated) producten
 eigenschappen van WCU en MoCu warmte materialen

Molybdeen-Koper voor Heat Sinks
Molybdeen koper koellichaam is samengesteld uit Mo en Cu, vergelijkbaar met W-Cu kan uitzettingscoëfficiënt van Mo-Cu worden aangepast door het aanpassen van de samenstelling. Maar Mo Cu veel lichter is dan W-Cu, zodat het beter geschikt voor luchtvaart-en astronautische toepassingen.
Voordelen:  hoge thermische geleidbaarheid door geen sintering additieven werd gebruikt;
Uitstekende hermeticity;
Relatief kleine dichtheid
Stampable sheets beschikbaar (ma-inhoud niet meer dan 75wt%)
Halffabrikaten of eindproducten (Ni / Au verguld) onderdelen beschikbaar
 als u interesse in dit product, neem dan gerust contact met ons op via e-mail: sales@chinatungsten.com of per telefoon: 86 592 5129 696.
Note: Thanks Google Tool for translating this page. If you need more details clearly, please visit English version Tungsten Alloy.

meer info>>
Wat is Tungsten Alloy| Zware Tungsten Alloy Grades| Zware Tungsten Alloy Application|
Tungsten Koper Application| Tungsten Koper onderdelen| Tungsten koperdraad|
Tungsten koperen staaf| Tungsten Copper Tube| Tungsten Koper Brick|