Meer kennis over VOORUIT
Geavanceerde Hit-efficiëntie en Destruction
VOORUIT is de afkorting van " geavanceerde Hit-efficiëntie en vernietiging ". Die ons te wachten kan ook betekenen 'vooruit .... ", is een indicatie van het idee dat AHEAD munitie is een geleid projectiel dat wordt geactiveerd en vóór ingezet om het bereiken van het doel," het bevorderen van onderschepping ". De kern van Ahead-technologie bestaat uit drie delen, waaronder AHEAD munitie, mondingssnelheid meting, en getimede ontsteker apparaat / data aanvraag systeem.
Hieronder betrekking hebben op de foto's van een typische militaire toepassing van wolfraam zware legering( GDF-ahead, uit Zwitserland ):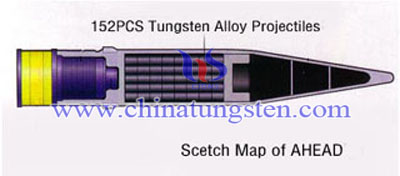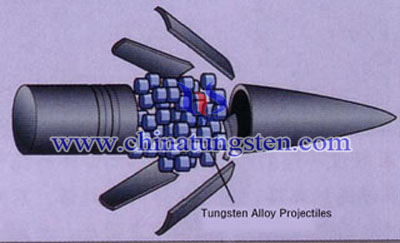 Schematic drawing of a heavy metal tank ammunition cartridge

1. Voorruit 2. Tungsten heavy-metal penetrator (sub projectiel)
 3. Driedelige sabot 4. Stabiliserende fin 5. Drijfgas
Technologische kern
De 35mm door 228mm AHEAD munitie is een originele cartridge type, geprogrammeerde detonator munitie, bestaande uit een programmeerbare Fuze System, wolfraam legering subprojectiles, uitwerpen impasse munitie, een dunwandige body-, nitroso-vezels afvuren van munitie en staal munitie cartridge.
De bestrijding efficiëntie van de VOORUIT munitie door de lading van 152 wolfraamlegering subprojectiles gewicht 3,3 gram. Deze subprojectiles worden geactiveerd op een bepaalde afstand voor de onderschepte doel, die een massa van dodelijke subprojectiles, sterk verhogen van de kans op een te doden. De wolfraam legering subprojectiles hebben een scherpe rand, zodat ze kunnen ingang in de doelgroep met precieze nauwkeurigheid, ook het verstrekken van de kinetische energie om de elektrische componenten, een nuttig laadvermogen of de motor van het doel te vernietigen.
als u interesse in onze producten, neem dan gerust contact met ons op via e-mail: sales@chinatungsten.com of per telefoon: 86 592 5129 696.
Note: Thanks Google Tool for translating this page. If you need more details clearly, please visit English version Tungsten Alloy.
meer info>>
Wat is Tungsten Alloy| Zware Tungsten Alloy Grades| Zware Tungsten Alloy Application|
Tungsten Alloy Militaire toepassingen| Tungsten Alloy Militaire Properties|
Tungsten Alloy Geprefabriceerde Fragments|Tungsten Alloy Uitstampen Rod|
Tungsten Alloy Cube| Tungsten Alloy Armor Piercing|