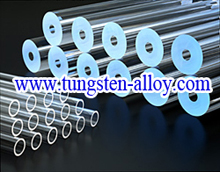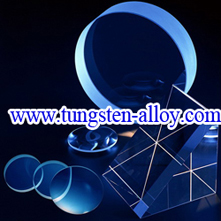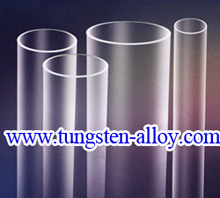 Kwartsglas of kwarts materiaal in speciale hoge-temperatuur ovens door de hoge smelttemperatuur (ca. 2000 ° C). Het hart van deze oven bestaat uit een smeltkroes die continu wordt gevuld met kwartszand en verwarmd tot smelttemperatuur. 

Het smelten smeltkroezen dus uit geklonken of geperst / gesinterd (naadloze) buizen van molybdeen ofwolfraam of een combinatie van Mo / W. 

Dekwartsglas buizen of stangen worden verwijderd door een opening. Het verwarmingssysteem bestaat in hoofdzaak uit wolfraam gaas of stang verwarmingselementen. Om dit te bereiken of regelen van de gewenste afmetingen een stekker en plug paal van vuurvaste metalen nodig naast de meetschijf. 

 
Toepassingsgebieden voor kwartsglas zijn lichttechniek, de halfgeleider industrie en glasvezel-technologie.Quartz materiaal wordt gebruikt voor temperatuurmetingen en de gieterij.

Beslag voor het kwartsglas Productie

Chinatungsten Online produceert armaturen als trechters, stralingsschermen, en bevestigingsmiddelen in molybdeen, wolfraam en WL die nodig zijn voor het kwartsglas productie. Bij het ​​gebruik materialen niet alleen de levensduur van de inrichting maar ook de levensduur van de gehele apparatuur worden verhoogd.

Als u belang bij deze informatie, neem dan gerust contact met ons op. Voor vragen of vragen over wolfraamlegering producten zullen worden verwelkomd door e-mail naar sales@chinatungsten.com of telefoon 86 592 5129 696.

 Note: Thanks Google Tool for translating this page. If you need more details clearly, please visit English version Tungsten Alloy.

meer info>>

Wat is Tungsten Alloy| Zware Tungsten Alloy Grades| Zware Tungsten Alloy Application|

Tungsten Alloy & Sports| Tungsten Alloy & Glass Industry|