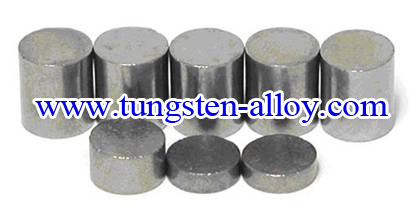 Product Content 
Incrementele Tungsten Cilinders bevatten vijf 1/2 ounce cilinders, een 1/4 ounce cilinders, en twee 1/8 ounce cilinders. Met behulp van de incrementele cilinders, kunt u een gewicht tussen 0 en 3 ounces acheive in 1/8 ounce stappen.
Om soortgelijke redenen wolfraam is een superieur product voor de weging van auto's. Wolfram is 3,2 maal het gewicht van de niet-leiding weging materiaal vaak voor auto's, dus het kunnen grote flexibiliteit bij het ontwerpen van de auto. Toevallig is wolfraam toegepast door NASCAR de metalen rol kooi als frame ballast het zwaartepunt van de raceauto verlagen.
Hoe Gebruik dit product 
Tungsten Cilinders kunnen gemakkelijk worden gebruikt voor auto-weging door het boren van een of meer 25/64 "of grotere diameter gaten in het blok en dan het plaatsen van het gewenste aantal cilinders. Het gat kan dan worden aangesloten met een stuk van 3 / 8 inch plug hengel. Sinds de Tungsten Cilinders zijn erg hard, niet van plan te boren van extra gewicht. Gebruik in plaats daarvan een alternatieve methode om fijne aanpassingen, zoals het toevoegen / verwijderen van wolfraam kralen te maken.
Tungsten Cilinders zijn de specifieke vereisten van de volgende auto's.
De bout - Uitgebreid Auto Plannen 2
De Detonator - Auto Plannen 5
De sportwagen (Extended Version) - Auto Plannen 4
The Wedge SE (Extended Version) - Wedge Auto Plannen
The Wedge TURBO (Extended Version) - Auto Plannen 3
4 ounce nominaal gewicht - de werkelijke gewicht varieert 3,9 tot 4,0 gram.

Als je interesse hebt in dit product, neem dan gerust contact met ons e-mail: sales@chinatungsten.com sales@xiamentungsten.com of bel ons op: 0086 592 512 9696, 0086 592 512 9595. Wij staan ​​tot uw dienst.
Note: Thanks Google Tool for translating this page. If you need more details clearly, please visit English version Tungsten Alloy.
meer info>>
Wat is Tungsten Alloy| Zware Tungsten Alloy Grades| Zware Tungsten Alloy Application|
Tungsten Alloy Contragewicht Voordelen
|
Tungsten Alloy Contragewicht Classificaties
|
Tungsten Alloy Plasma Accelerator Afscherming| Tungsten Alloy Collimator|